Yakiniku Like is a popular Japanese barbecue restaurant chain known for its affordable prices and unique solo dining concept. Originating from Japan, Yakiniku Like has expanded to over 30 outlets across Asia, with 4 locations currently in Singapore.
This article provides an overview of Yakiniku Like's menu offerings and prices in Singapore for 2023.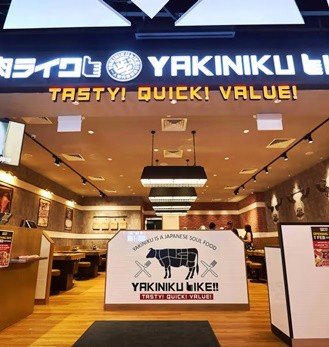 Overview of Yakiniku Like
Yakiniku Like was founded in 2018 in Tokyo's Shinbashi district in Japan. The first Singapore outlet opened in February 2020 at PLQ Mall, with a menu priced without GST and service charge to keep costs low for customers.
The restaurant is best known for its individual electric grills at every table, allowing solo diners to enjoy yakiniku without feeling self-conscious. The grills use advanced smokeless technology to prevent smells from clinging to customers' clothes and hair.
In addition to the solo grills, Yakiniku Like also offers larger grills for couples and groups. The open layout still allows for some privacy and separation between solo diners.
Yakiniku Like Outlets in Singapore
As of 2023, there are 4 Yakiniku Like outlets located across Singapore:
PLQ Mall – 10 Paya Lebar Road, #B1-28, Paya Lebar Quarter, Singapore 409057
Compass One – 1 Sengkang Square, #04-06, Compass One, Singapore 545078
The Clementi Mall – 3155 Commonwealth Avenue West, #05-35/37, The Clementi Mall, Singapore 129588
VivoCity – 1 HarbourFront Walk, #02-60, VivoCity, Singapore 098585
Operating hours are generally 11 am to 10 pm daily at all outlets.
Yakiniku Like Menu & Prices
Yakiniku Like Singapore's menu features a straightforward selection of individual grilled meats, sets, sides, and drinks. Customers can choose from a la carte items or complete sets that come with rice, soup, salad and more.
Here is an overview of the pricing for key categories on the menu:
A La Carte Grilled Meats
Karubi (Beef Short Plate) – 100g for $5.90
Sukiyaki Karubi – 100g for $6.90
Chicken – 100g for $4.90
Pork Belly – 100g for $5.90
Harami (Beef Skirt Steak) – 100g for $11.90
Mini Curry Combos
Karubi Set – $18.60
Pork & Chicken Set – $16.60
Pork Belly Set – $18.60
Karubi & Harami Set – $23.60
Sukiyaki Karubi Set – $19.60
Each set includes mini curry, grilled meat, rice, kimchi and soup.
Mains Sets
Garlic Butter Karubi Set – $16.80
Garlic Butter Pork & Chicken Set – $14.80
Karubi Set – $15.80
Sukiyaki Karubi Set – $16.80
Karubi & Harami Set – $20.90
Pork Belly Set – $15.90
Pork & Chicken Set – $13.90
Sets come with rice, kimchi and soup. Garlic butter sets include garlic butter sauce.
Sides
Seaweed Soup – $1.50
Kimchi – $1.50
Salad – $1.50
Half Boiled Egg – $1.30
Sanchu (Korean Lettuce) – $2.50
Beverages
Soft Drinks – $2.80
Juices – $2.80
Bottled Water – $1.90
Tea – $2.80
In addition to the regular menu items, Yakiniku Like also occasionally offers special seasonal items and sets.
Ordering at Yakiniku Like
Yakiniku Like offers dine-in, takeaway, and delivery options. Customers can place orders directly in-store or via delivery platforms like Oddle and Foodpanda.
For dine-in, customers order and pay at the counter before being seated. Food is cooked directly at the table on the built-in grills.
The restaurant aims to serve food within 3 minutes of ordering. Customers help themselves to condiments and sides at the counter.
For takeaway and delivery, orders can be placed online or via phone. The meats come pre-marinated and ready for cooking at home. Customers can also opt to add on ready-to-eat sides like kimchi and salad.
Yakiniku Like also offers online exclusive deals and combos at times. Customers can follow their social media pages to stay updated on promotions.
Yakiniku Like Menu Highlights
Here are some of the most popular picks from the Yakiniku Like menu:
Karubi Set – The Karubi or beef short plate is a tender cut that works well for yakiniku. This set provides good value with rice, soup and kimchi included.
Pork Belly – Thinly sliced pork belly is a yakiniku favorite. The fatty layers become deliciously caramelized over the grill.
Garlic Butter Sets – For something a little different, the garlic butter sets allow you to dip the meat in aromatic garlic butter sauce.
Harami Skirt Steak – Harami is a bolder, beefier cut that yakiniku fans will enjoy. It has a robust flavor balanced by a tender texture when grilled.
Seaweed Soup – Have a bowl of this light, comforting soup made from scratch with seaweed and beef stock. It's a nice complement to the meat.
Kimchi – Complete your meal with a side of their house-made kimchi, featuring napa cabbage fermented in a spicy sauce.
Tips for Dining at Yakiniku Like
Here are some useful tips to get the most out of your Yakiniku Like experience:
Go during non-peak times if possible to avoid long queues and waiting times. Weekday lunch hours tend to be less crowded.
For solo diners, ask for a solo grill spot if you prefer privacy. Otherwise, you will be seated side-by-side with other solo diners.
Order an extra bowl of rice if you have a big appetite. Free rice refills are available.
Try the garlic butter dipping sauce for a nice flavor boost. The spicy miso sauce is also popular.
If dining in a group, the pork belly and Harami skirt steak are great to share.
Seaweed soup and kimchi make tasty side dishes to balance out the meat.
Portion the meat out and take turns cooking to ensure even cooking and prevent sticking together.
Let the grill heat up sufficiently before adding food. Use tongs to place and turn meat.
Drink plenty of liquids to stay hydrated. Unlimited water is available.
Conclusion
Yakiniku Like brings an affordable and unique yakiniku experience to Singapore. With smokeless grills, solo dining spaces, and quick service, they cater well to individual diners.
The menu focuses on high-quality grilled meats at reasonable prices. Signature items like their marinated Karubi beef short plate and Harami skirt steak are recommended. Complete set meals provide good value, starting from $13.90.
With 4 outlets across Singapore, Yakiniku Like is a tasty option for enjoying Japanese BBQ solo or in groups. Their novel concept and wallet-friendly prices will appeal to students and office workers looking for a quick, casual meal.
Frequently Asked Questions
1. What is Yakiniku Like best known for?
Yakiniku Like is best known for its individual electric grills and solo dining concept that allows even single diners to enjoy yakiniku. The grills use smokeless technology to prevent smell.
2. How much does it cost for a pork belly set meal?
A pork belly set meal costs $15.90. This includes 200g of grilled pork belly, rice, kimchi, and seaweed soup.
3. Can you make reservations at Yakiniku Like?
No, Yakiniku Like does not accept reservations. It is first-come, first-served seating only. Going during non-peak hours can help avoid long queues.
4. Is there a time limit for dining at Yakiniku Like?
There is no strict time limit, however, the goal is to keep table turnover efficient. Most customers finish within 60 minutes. Solo diners tend to spend 30-45 minutes.
5. What are some popular dipping sauces at Yakiniku Like?
Popular dipping sauces include garlic soy sauce, spicy miso sauce, and salt. The limited-time garlic butter sauce is also a favorite.
6. Does Yakiniku Like offer delivery?
Yes, delivery is available via platforms like Oddle and Foodpanda. Customers can also call to place takeaway orders. The meats come pre-marinated and ready for cooking.
7. Can you get drinks like beer at Yakiniku Like?
No, the only beverages sold are non-alcoholic drinks like soft drinks, juices, tea, and water. Bringing in outside drinks is also not allowed.
8. Is there a kids menu available?
No, Yakiniku Like does not have a specific kids menu. However, children can order from the regular a la carte menu in smaller portions. The pork belly and chicken are milder introductory meats.
9. Do prices at Yakiniku Like include tax and service charge?
No, the menu prices are all nett with no GST or service charge added. Taxes are included in the listed price.
10. Can vegetarians eat at Yakiniku Like?
The menu is mostly meat-based. Vegetarians can try the vegetable salad, kimchi, rice, and soup. More vegetable items may be added seasonally.