Texas Roadhouse is beloved for its hand-cut steaks, fall-off-the-bone ribs, and fun, lively atmosphere. But the chain's drink menu deserves just as much love. From ice-cold beer to fruity margaritas, Texas Roadhouse offers a fantastic selection of thirst-quenching beverages. Read This Texas Roadhouse Happy Hour Menu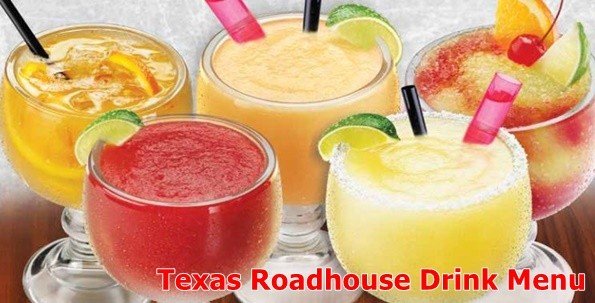 TEXAS ROADHOUSE DRINK MENU
The Texas Roadhouse drink menu features both non-alcoholic and alcoholic options to please patrons of all ages. Here's an overview of what you can expect to find:
Non-Alcoholic Drinks
Soft Drinks: Coca-Cola®, Diet Coke®, Sprite®, Minute Maid® Lemonade, Hi-C®
Tea: Sweet or Unsweet Tea
Lemonades: Wild Strawberry, Blue Crush, Red Raspberry
Mocktails: Kenny's Cooler, Arnold Palmer
Alcoholic Drinks
Beer: Coors, Miller, Budweiser, Negro Modelo, Angry Orchard, Blue Moon
Wine: Red and White Wine
Margaritas: Original, Skinny Lime, Hurricane, Sangria, Jamaican Cowboy, and many more
Cocktails: Long Island Iced Tea, Southern Whisky Long Island Iced Tea
Texas Roadhouse offers an extensive drink menu filled with refreshing options for all preferences and tastes. Keep reading to learn more about the menu's most popular items, prices, and nutrition facts.
Prices
Texas Roadhouse positions itself as an affordable casual dining restaurant, and its drink prices reflect that. Here are the typical prices you can expect to pay:
Soft Drinks: $2.50
Tea: $2.50
Lemonades: $3.50
Beer: $3.50 – $5.50
Wine: $6 glass | $20 bottle
Margaritas: $6.99 – $8.99
Cocktails: $8.99
These prices may vary a bit by location but provide a general idea of Texas Roadhouse's value-oriented beverage options. The chain also offers daily drink specials and happy hour deals at select times to help you save.
What are the Most Popular items on the Texas Roadhouse Drink Menu?
Texas Roadhouse has won over fans with its tasty margaritas and beer options. Here are some of the most popular drinks on the menu:
Margaritas
The margarita stands out as one of the top drinks at Texas Roadhouse. Favorites include:
Original Frozen Margarita: The classic frozen concoction made with tequila and Texas Roadhouse's secret mix. A sure crowd-pleaser!
Original Margarita on the Rocks: For those who prefer their margarita shaken and served over ice.
Skinny Lime Margarita: A lighter option with less sugar.
Hurricane Margarita: A sweet and tangy twist on the classic Hurricane cocktail.
Sangria Margarita: Made with red wine and available frozen or on the rocks.
Jamaican Cowboy Margarita: Featuring rum, peach schnapps, and tropical flavours.
Beer
Beer makes up over 50% of Texas Roadhouse's alcohol sales. Top options include:
Domestic beers like Budweiser, Coors, and Miller
Imports like Negro Modelo and Dos Equis
Craft beers like Blue Moon and Angry Orchard
The restaurant also offers beer buckets and pitchers to make sharing easy.
What Other Drinks Does Texas Roadhouse Offer?
Beyond margaritas and beer, Texas Roadhouse provides an array of other spirited and non-alcoholic choices:
Cocktails
Long Island Iced Tea: A boozy blend of vodka, rum, gin, tequila, and a splash of cola.
Southern Whisky Long Island Iced Tea: Bourbon replaces the vodka in this regional twist.
Armadillo Punch: Malibu rum, pineapple juice, and cranberry juice.
Texas Peach Fuzz: Peach vodka, peach schnapps, and orange juice.
Non-Alcoholic Favorites
Lemonades: Raspberry, strawberry, wild strawberry, and other refreshing flavours.
Arnold Palmer: A half-and-half blend of lemonade and iced tea. Customize with different flavoured lemonades and teas.
Kenny's Cooler: Named for Texas Roadhouse founder Kent Taylor, this sweet mocktail combines lemonade, cranberry juice, and Sierra Mist.
Iced Tea: Unsweetened or sweet tea.
Texas Roadhouse Drink Menu Nutrition Facts
Texas Roadhouse provides nutrition information for its drinks to help guests make informed choices. Here are some key stats:
Soft Drinks (12 oz): 150-200 calories, 38-55g carbs, 30-75mg sodium
Iced Tea (20 oz): 80 calories, 21g carbs, 0mg sodium
Lemonade (14 oz): 130-180 calories, 32-44g carbs, 25-50mg sodium
Margarita (10 oz): 190-260 calories, 18-24g carbs, 10-15g sugar, 0mg sodium
Beer (12 oz): 100-150 calories, 5-15g carbs, 0mg sodium
Long Island Iced Tea (10 oz): 190 calories, 18g carbs, 11g sugar, 10mg sodium
Overall, the soft drinks, lemonades, margaritas, and Long Island Iced Tea all weigh in at 150-300 calories per serving. Beers are lighter at around 100 calories each.
Guests looking to cut back on calories can ask for diet soft drinks, skinny margaritas, or low-calorie beer options. Adding more ice or ordering smaller sizes can also reduce calorie counts.
Satisfy Your Thirst at Texas Roadhouse
With its fun, casual vibe and menu of handcrafted margaritas, ice-cold beers, and speciality drinks, it's easy to see why the Texas Roadhouse drink menu receives rave reviews. Guests love the variety and affordability of the beverage options.
Next time you visit, be sure to pair your juicy steak or ribs with a refreshing margarita, lemonade, or other.