Subway, the world's largest sandwich chain, introduced protein bowls to its menu in late 2020. These bowls allow customers to enjoy the flavors of Subway's signature sandwiches in a healthier, lower-carb option by removing the bread.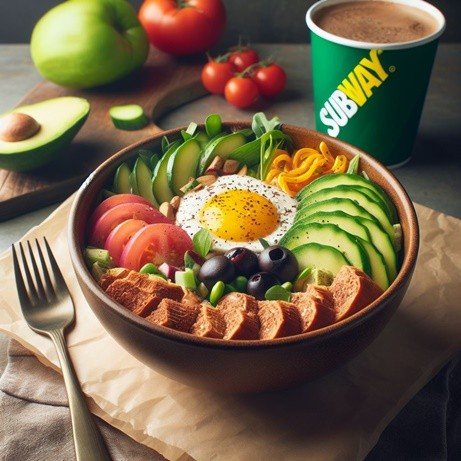 A Brief History of Subway's Protein Bowls
In December 2020, Subway quietly added 11 protein bowls to its permanent menu. The bowls were essentially the fillings of the chain's popular footlong sandwiches, served salad-style in a bowl without the bread.
The protein bowls launched with the same protein portions as the footlong sandwiches, giving them about twice as much meat as Subway's existing salads. The bowls provided a lower-carb alternative for customers looking to reduce their bread intake.
Initially called "protein bowls," Subway rebranded these menu items as "No Bready Bowls" in December 2021. The new name helped differentiate the bowls from the chain's salads and highlighted their lack of bread.
The Nutritional Benefits of Subway's No Bready Bowls
The main appeal of Subway's No Bready Bowls is their high protein, low carb nutrition profile.
For example, a Cold Cut Combo protein bowl contains:
260 calories
20g protein
16g fat
9g carbs
Whereas a Cold Cut Combo sandwich contains:
280 calories
17g protein
10g fat
38g carbs
The protein bowl has significantly fewer carbs but more protein compared to the sandwich. This makes it an ideal option for customers limiting their carb intake, such as those on low-carb, keto, or paleo diets.
While the bowls are lower in carbs, they do contain more sodium than the sandwiches. A Cold Cut Combo protein bowl has 1,310mg sodium, versus 980mg in the sandwich. Customers who are watching their sodium intake may want to be mindful of this difference.
Overall, the No Bready Bowls are a healthier and lighter alternative for customers looking to cut down on bread and carbs. By removing the bread, Subway has transformed its sandwiches into more diet-friendly fare.
The Protein and Flavor Options
Subway's No Bready Bowls allow customers to choose from a wide variety of proteins, flavors, and fresh vegetable toppings:
Proteins:
Chicken strips
Rotisserie chicken
Roast beef
Turkey breast
Ham
Salami
Pepperoni
Meatballs
Tuna
Steak
Signature Flavors:
Sweet Onion Chicken Teriyaki
Chicken Bacon Ranch
Buffalo Chicken
Italian B.M.T.
Meatball Marinara
Cold Cut Combo
Vegetable Toppings:
Lettuce
Spinach
Cucumbers
Tomatoes
Green peppers
Red onions
Black olives
Cheeses:
Shredded Monterey cheddar
Grated Parmesan
Sauces and Dressings:
Ranch
Chipotle Southwest
Sweet Onion
Marinara
Oil & Vinegar
With a choice of over 20 protein bowls, customers can find options whether they are craving sweet onion chicken, classic meatballs, or a cold-cut trio. There are also plenty of fresh vegetables to pile on to add fiber, vitamins, and minerals.
Subway's bowls mimic the flavors of customer favorites like the Sweet Onion Chicken Teriyaki, Meatball Marinara, and Cold Cut Combo sandwiches. But by serving the ingredients over a base of lettuce rather than bread, the bowls have a lighter, healthier profile.
Customizing Your Bowl
One of the best things about Subway's No Bready Bowls is the high degree of customization. Like all items at Subway, you can add or remove ingredients to suit your preferences.
Want to kick up your protein? You can upgrade to a double portion of meat for an extra charge. Don't like onions or olives? Leave them off your bowl. Extra spinach and veggies? Just ask.
Subway's bowls also give customers control over their sauces and dressings. Add ranch, chipotle, or sweet onion sauce to complement your proteins. Or stick with oil and vinegar for a lighter option.
Compared to pre-configured bowls at other chains, Subway's build-your-own approach is ideal for customers with dietary needs or picky preferences. You can craft a bowl to match your taste and nutrition goals.
Are the Bowls Worth Trying?
Reviews of Subway's No Bready Bowls are generally positive. Many fans on social media have shared their approval of the high-protein, lower-carb bowls.
Customers praise the variety of proteins and flavors available, with some calling out favorites like the Sweet Onion Chicken Teriyaki bowl. Others say the bowls make it easy to enjoy Subway without the bread.
Some customers do note the bowls could benefit from having a double protein option. And vegetarians are limited, as the vegetable-based Veggie Delight sandwich cannot be made into a bowl.
But overall, the bowls appear to satisfy fans of Subway's classic sandwich flavors who want a lighter, more diet-friendly alternative. The bowls allow customers to enjoy Subway while limiting carb and calorie intake.
Cost and Availability of Subway's Bowls
Subway's No Bready Bowls are available at Subway locations nationwide. The bowls are priced in line with the chain's footlong sandwiches, generally costing $1-2 more than a six-inch sub.
Based on a sampling of prices, expect to pay around $8-9 for a protein bowl, depending on your location. Upcharges apply for extras like premium meats and extra cheese.
The bowls can be ordered restaurant or customized and ordered online via Subway's website or mobile app. Contactless pickup makes grabbing your customized bowl convenient and safe.
Should You Try Subway's No Bready Bowls?
Subway's protein bowls offer a fresh, flexible way to enjoy the chain's signature flavors and ingredients in a lower-carb, diet-friendly form.
The bowls are ideal for customers who:
Are limiting bread, carbs, and calories
Want high-protein, low-carb fast food options
Enjoy customizing their meals
Seek lighter, healthier takes on Subway sandwiches
With abundant proteins, vegetables, and flavor choices, Subway's bowls allow you to craft a satisfying meal suited to your dietary needs. Just keep in mind the bowls' higher sodium levels if you are watching your salt intake.
For fans of Subway in search of lighter fare, the No Bready Bowls are worth trying. They provide a fresh take on Subway's classic sandwiches and ingredients.
Nutrition Information of Popular No Bready Bowls
To help you make an informed decision, here is the nutrition information for some of Subway's most popular No Bready Bowls:
Rotisserie-Style Chicken Bowl
210 calories
32g protein
4.5g fat
15g carbs
790mg sodium
Sweet Onion Chicken Teriyaki Bowl
270 calories
24g protein
6g fat
36g carbs
1,520mg sodium
Turkey Breast Bowl
230 calories
28g protein
3.5g fat
15g carbs
960mg sodium
Steak & Cheese Bowl
290 calories
21g protein
15g fat
11g carbs
1,220mg sodium
Tuna Bowl
260 calories
22g protein
6g fat
15g carbs
850mg sodium
Frequently Asked Questions
Here are answers to some common questions about Subway's protein bowls:
What are the protein bowls made of?
The protein bowls contain the same ingredients as Subway footlong sandwiches, including meat, cheese, vegetables, and sauce, served over lettuce without the bread.
What proteins can you get in the bowls?
Protein options include chicken, steak, roast beef, turkey, ham, salami, pepperoni, meatballs, and tuna.
Can you customize the bowls?
Yes, just like sandwiches at Subway, the bowls are completely customizable. You can add or remove ingredients to match your preferences.
Are the bowls healthy?
The bowls are a healthier alternative to sandwiches, with more protein, fewer carbs, and fewer calories. However some bowls are high in sodium, so moderation is key.
Do the bowls taste good?
Many customers praise the taste and say the bowls allow them to enjoy Subway's flavors without the bread.
How much do the protein bowls cost?
Pricing is similar to a footlong sub, generally between $8-9 before customizations. Extras like premium meats cost more.
Where can I order a protein bowl?
The No Bready Bowls are available at Subway locations nationwide and can be ordered in-store, online, or through the Subway app.
The Bottom Line
Subway's No Bready Bowls provide a convenient, customizable way to enjoy the sandwich chain's ingredients and flavors in a healthier, lower-carb, high-protein form.
By removing the bread, the bowls transform Subway's subs into more diet-friendly fare. With abundant protein and vegetable add-ons, you can craft a bowl to suit your nutritional needs.
For Subway fans seeking lighter options beyond sandwiches, the protein bowls are worth trying. Their flexibility and variety of flavors give customers a fresh way to enjoy Subway.