Located in Abilene, Texas, Lineberger's Cattle Company Steakhouse & Saloon is a local legend known for its incredible steaks and downhome charm. Serving up mesquite-grilled steaks and classic Texan fare since 1983, Lineberger's offers a taste of true Texas cuisine in a rustic ranch setting.
Here is a complete guide to the Lineberger's Cattle Company menu featuring their famous steaks, signature sides, house specialties, and more: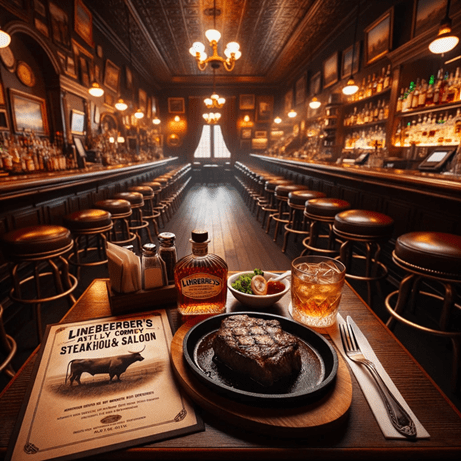 Lineberger's Cattle Company Steakhouse & Saloon Menu
Sizzling Steaks
The highlight of the Lineberger's menu is undoubtedly their perfectly aged and grilled steaks. You can choose from several premium cuts:
Ribeye
12 oz or 16 oz ribeye steak
Well-marbled for maximum tenderness
Mesquite grilled to your preferred doneness
T-Bone
16 oz T-bone steak
Both tenderloin and strip loin
Big, bold beefy flavor
Filet Mignon
8 oz tenderloin filet
Lean and delicately flavored
Wrapped in bacon for added richness
New York Strip
12 oz or 16 oz NY strip loin
Tender texture with a strip of fat for flavor
Juicy and full-bodied
All steaks are seasoned with Lineberger's special house rub and then grilled over a mesquite wood fire. You can add sautéed mushrooms, onions, or bleu cheese crumbles on top.
Signature Sides – $3.99 Each
Complete your steak dinner with Lineberger's signature sides:
House Salad – Mixed greens, cherry tomatoes, cheddar, croutons
Caesar Salad – Romaine lettuce, parmesan, garlic croutons
Baked Potato – Loaded with butter, sour cream, cheese, bacon
Sweet Potato – Topped with cinnamon butter
French Fries – Crispy fries with house seasoning
Fried Okra – Hand-breaded and fried okra slices
Green Beans – Slow simmered with bacon and onions
Mac & Cheese – Creamy cheddar macaroni baked casserole
Sides are generous portions made from scratch in-house.
Specialty Entrées
Beyond steaks, Lineberger's menu features several specialties:
Chicken Fried Steak – $14.99
Beef cube steak hand breaded and fried
Smothered in creamy peppered gravy
Served with mashed potatoes and green beans
Chicken Fried Chicken – $13.99
Juicy chicken breast fried crispy in batter
Topped with sawmill gravy
With mashed potatoes and a choice of side
Grilled Salmon – $18.99
8 oz salmon fillet grilled with garlic butter
Served on a bed of rice pilaf with grilled veggies
Baby Back Ribs – Half Rack $16.99 | Full Rack $22.99
Pork baby back ribs smoked in-house
Basted with tangy BBQ sauce
Served with fries and coleslaw
The entrées capture the hearty, homemade flavors of Texas cooking.
Lunch Menu
Lineberger's serves a special lunch menu from 11am to 3pm daily featuring sandwiches, burgers and more:
Steak Sandwich – $12.99
Sliced ribeye with sautéed onions and mushrooms
Melted provolone cheese on a hoagie roll
Served with fries or chips
Chicken Sandwich – $9.99
Grilled or fried chicken breast
Lettuce, tomato, onion and pickles
With honey mustard and fries
Classic Cheeseburger – $8.99
Half-pound beef patty
American cheese, lettuce, tomato, onion
Served with fries
There are lighter options like salads and wraps available too.
Appetizers
Lineberger's menu has several tasty appetizers and sharables:
Texas Cheese Fries – $7.99
Fried Pickles – $6.99
Chicken Tenders – $8.99
Quesadillas – $7.99
Nachos – $9.99
Wings – $11.99
Onion Rings – $5.99
The appetizers are great for sharing and make the perfect start to your meal.
Desserts
Save room for dessert at Lineberger's with options like:
Skillet Cookie – $7.99
Brownie Sundae – $5.99
Bread Pudding – $4.99
Pecan Pie – $4.99
Cheesecake – $5.99
The desserts are made in-house using family recipes passed down for generations.
With its juicy steaks, comfort food sides, and warm hospitality, Lineberger's Cattle Company Steakhouse & Saloon offers an authentic taste of Texas. The menu features classic steakhouse fare at its best.